Content quality: 17/20
Content amount: 17/20
Excitng and originality: 17/20
Design and usability: 17/20
Reviewer's opinion: 17/20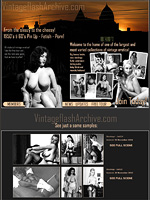 Pictures:
236+ picture sets
ZIP download: Yes

Videos:
1+ episodes
Format:
WMV - 320x240 pixels

Downloadable videos: Yes
DRM protection: No
Quick Facts:
Updates: Few times a week
Exclusive: Not exclusive
No download limits: Yes
Bonus content: 5 sites for the
price of one
Pricing:
$29.95 - 30 days (recurring)
$35.95 - 30 days (non-recurring)
$99.95 - 120 days (non-recurring)

Crossales:
No
visit Vintage Flash Archive »
Perfect vintage porn, pin-up & vintage erotica from 50s-60s
Vintage Flash Archive is a site giving you the unique opportunity to plunge into the ocean of vintage pleasure going through extremely rare erotica pics dating back to 50s-60s - the time when girls used to be so much hotter and more adventurous in adult biz. This site is not a plain porn archive though - what you get on its pages are real pin-up pictures from the good old times - the kind of stuff every man dreamt to have in his collection back in the day. Lingerie and nylons are in focus too!
Memberzone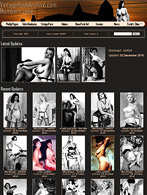 memberzone screenshots
Before I get to describe the things that I found inside the Members area of Vintage Flash Archive, let me tell you a couple of words about the thing that stunned me most in this resource. Leafing through the free tour pages of this one, looking at its amazing pin-up girls posing in sexy stockings, old school lingerie and exposing even the most secret corners of their bodies, I went, like, damn, were girls really so much bustier back in the day? It's either that they were or that Vintage Flash Archive focuses on exceptionally curvaceous beauties cause the majority of retro chicks you can find here sport absolutely breathtaking racks.

Okay, now down to the most convincing and the most unbiased thing: the numbers. The porn collection of Vintage Flash Archive is not that huge yet really carefully picked and sorted. The PinUp Pages section inside the Members area contains 192 picture scenes ranging from black-and-white vintage erotica masterpieces to color ones - shot in the times full-color photography was only starting to appear.

Moreover, there are 5 stunningly explicit bondage and domination scenes from 50s-60s available inside the Fetish Features area and some 37 photo episodes offered inside Vintage Porn zone (this one is where things go totally hardcore and smiley girls in nylons are replaced with fucking retro whores). Any videos here? Well, there is - only 1 though. Oh yeah, there is also that funny and utterly fetishist section letting you see the pics of stockings packs dating back to 50s-60s. That's some rare stuff, really.

Bet that you understand that you shouldn't really expect the quality of content supplied by Vintage Flash Archive to be sky-high - after all, this is nothing but scanned photo dating back to the good old times. Even if you increase the resolution of the digital pics, their quality won't get any better - and this is exactly why this site is here online with 604x498Px photos and 320x240 at 448Kbps video. Anyway, back in the day men could only dream of a technology that would make Vintage Flash Archive possible, so I guess we should be grateful. :)

The situation with the updates is usually cool here - new scenes appear once in every 3-4 days. However, there is one thing that looks a little bit strange and even a little warning - the point is that in October-November 2010 there was a temporary pause in the updating which lasted almost a whole month. Hopefully, this will never happen again - the schedule of future updates is there and it looks fairly promising.

What obviously deserves a separate paragraph in this review is the bonus section of this site. What you will find there is free access to 3 bonus sites affiliated with Vintage Flash Archive! One of them is focused on staged retro stuff - the girls of today dressed in vintage lingerie, stockings, high heels, etc. The other two show girls in pantyhose and girls in sexy retro college uniforms (and out of them, of course). Makes Vintage Flash Archive that much more seductive, eh?
Conclusion
Pros
Excellent collection of vintage porn pics.
Zip downloads.
Regular updates.
Access to 3 other sites.

Even though I can't say that the archive of retro porn available from Vintage Flash Erotica is that huge, I can't miss the chance to point out its well-balanced and exciting nature. What this site offers you is not just a pile of vintage erotica snatched from someone else's Members area - it's a unique set of 50s-60s XXX collectibles that will most probably match the preferences of demanding retro fans. Hope that regular updates will turn size into one of this site's strongest features one day.
mebmership to Vintage Flash Archive give you free bonus access to 5 sites
Best Vintage fetish Sites