Content quality: 17/20
Content amount: 16/20
Excitng and originality: 17/20
Design and usability: 17/20
Reviewer's opinion: 15/20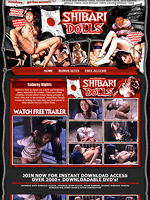 Pictures:
0+ picture sets
Vid caps: Yes

Videos:
78+ episodes
Format:
MPEG4 - 512x336 pixels
MPEG4 - 600x400 pixels
Flash - 512x336 pixels
Flash - 600x400 pixels

Downloadable videos: Yes
DRM protection: No
Quick Facts:
Updates: Weekly
Exclusive: Most content
No download limits: Yes
Pricing:
$0.00 - 2 days limited access (recurring)
$39.95 - 30 days (recurring)
$69.95 - 90 days (recurring)

Crossales:
Yes
- if undesired, uncheck additional offers
visit Shibari Dolls »
Classy Japanese rope bondage for the picky
Japanese rope bondage is a whole separate universe of kink. It is known for its combination of aesthetic beauty and full submission of the bottom. With ShibariDolls, you will take a trip through blood-boiling Asian torment exploits which involve cute Asian female bottoms tied up tight, fucked and humiliated. The site's highly original videos running at almost 2 hours each will be your ticket to this very unusual world of Japanese BDSM where kink meets originality and fullest possible immersion.
Memberzone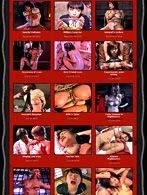 memberzone screenshots
Even if you are not exactly a gourmet of rope bondage and BDSM sex, with barely any understanding of the Japanese BDSM scene, ShibariDolls still manages to catch, grab and hold your attention. The site is pretty honest and straightforward about its content. The guys behind the site managed to reach the perfect combination of Japanese rope bondage, BDSM sex and Asian torment which goes beyond the borders of pure physical sex or even applying the ropes. In other words, the alchemy is just about as simple as it is efficient.

The fine art of the rope is blended with hardcore bondage porn, with some really mean Asian torment on top. The site makes a pretty solid statement with its tour pages which offer a really generous preview of the updates, without the actual footage of course. Still, the thumbnails are fine at this stage. You get the idea what's going on, now it's time to see it in full glory.

ShibariDolls is part of the Fetish Network crowd, and just like all other sites, this one shares the common member area concept. No distractions, no flashy stuff, no crap like that. Latest update, most popular episode, upcoming update, and all the rest below. With such subtle subjects as shibari and Japanese BDSM surely are, you don't need anything which could shatter the atmosphere.

The video archive sort of begs to be browsed, and at the moment of reviewing it had over 70 videos. This is a pretty large amount, even before you find out the videos run at around 100 minutes each. But with all the thrills of Japanese BDSM videos available here, tech stuff might as well be the last thing you pay attention to.

Every content item at ShibariDolls offers a truly cinematic experience. Well over an hour in length, with intros, outros and music, these full length Japanese bondage videos really set the site apart from the rest of the crowd. Typically, a story is about several men and a helpless female Asian bondage slave, and the former inflict all sorts of Asian torments to the latter. The videos are pretty well balanced between the intricate art of the rope, hardcore bondage sex which can happen with the bottom still tied up, and all other things you would expect in BDSM porn, from wax to pegs.

The pictures, essentially screepcaps, help understand the long story better. The videos come as MP4 files to stream or download, 2 quality modes. The biggest file can be around a gigabyte in size. One thing to point out, these videos are authentically Japanese, which pretty much explains why they are censored in terms of genital exposure. But with all the Japanese BDSM sex madness going on, kinky rope practices, suspension, bondage sex and other sorts of humiliation, you won't feel any difference.
Conclusion
Pros
Exclusive asian bondage videos.
Access to 40+ fetish sites.
50 video updates monthly.
Free trial access.
Cons
Pictures is vid caps only.
Censored genitals.
ShibariDolls is a pretty strong combination of full length Asian bondage videos, hardcore BDSM sex, Asian torment and cinematic excellence. The site's full length videos really beg to be saved to your computer and watched over and over again. Running at 100 or more minutes, the Japanese rope bondage videos you are about to see offer a complete immersion into the world of shibari where cute Asian girls become helpless and hapless victims to things too perverted to be described – therefore, needed to be seen. With all the content available inside Fetish Network which updates every day and has over 40 sites this is a great deal actually.
Best Bondage fetish Sites