Content quality: 19/20
Content amount: 14/20
Excitng and originality: 18/20
Design and usability: 16/20
Reviewer's opinion: 18/20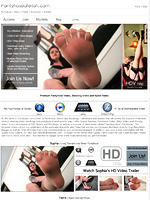 Pictures:
40+ picture sets
High-Res pics: Yes
Vid caps: Yes

Videos:
65+ episodes
Format:
WMV - 1280x720 pixels
Quicktime - 1280x720 pixels
Flash - 600x300 pixels

High-Def videos: Yes
Downloadable videos: Yes
DRM protection: No
Quick Facts:
Updates: Weekly
Exclusive: All content
No download limits: Yes
Pricing:
$19.00 - 30 days, $17.00 (recurring)
$19.00 - 30 days (non-recurring)

Crossales:
No
visit Pantyhosed Fetish »
Feet and legs in pantyhose in close-up
Pantyhosed Fetish deserves being called an exceptional site for a good deal of completely different reasons. Leafing through its pages I just couldn't stop marveling at the gorgeously shapely legs and feet in nylons of the models exposed there. And even though most of those girls only tease you without stripping, I do not mind it - this is one of those rare cases when stunningly artful pantyhose foot fetish pics filmed in close-up turn out to be way more important that shots of girls' private crevices.
Memberzone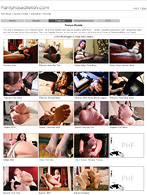 memberzone screenshots
In spite of its swanky looks and fairly impressing free tour pages, Pantyhosed Fetish turns out to be a fairly new site. Oh well... It wouldn't be so right to call it so because it's been online for quite some time already - it's just that all the content it was offering to its Members used to come from its sister site called Beautiful Feet Online. Things started changing rapidly only on October 20, 2010, when the author and the main artist of Pantyhosed Fetish announced the switching to providing of exclusive legs and feet worship content shot for Pantyhosed Fetish and no other site but Pantyhosed Fetish.

That wasn't a conflict between those two resources though - some of Beautiful Feet Online's content will still be available to every member of Pantyhosed Fetish as a bonus. It's a pity there isn't too much of that bonus content here. And yeah, feel I just have to make that very important addition - Beautiful Feet Online seems to hardly have much to do with pantyhose - this source is mostly focused on barefoot girls.

So, one way or another, the site in the focus of our attention tonight is Pantyhosed Fetish and what we will be analyzing is its own amazing brand-new collection of foot fetish stuff. By the way, it turns out to be that this site's collection is not as decent and non-nude as I thought - some of the older shoots feature totally naked girls posing even more than just explicitly. Yeah, the amateur freshies starring in the newest of the shoots seem to be more decent but...

The hell with it - when the guy's cam is aimed at them, I just lose my mind. And another addition too - the artist of Pantyhosed Fetish seems to favor real alt girls most - there are so many punk, Goth and rockstar cuties covered with tattoos here. Looks like his range of preferences goes beyond foot fetish. ;)

The size of content archive here at Pantyhosed Fetish is not that stunning, I should say. During a little more than a month, the author of this one managed to gather up 20 full-time brand-new scenes offering you both pics and videos and 20 more "featured talent" episodes showing the hottest girls he has ever shot - according to his own point of view, of course - though a point of view that doesn't seem to be subjective at all. The updating, however, is anything but infrequent here at this site - the gaps between the new releases range from 7 to as few as 3-4 days. And the updating is not expected to stop in future - already now the schedule for the following two months is full and I'm sure there's much more stuff yet to come.

The quality of content? Well, at a softcore site letting such gorgeous models tease and please you while getting filmed from such amazing angles it can't be anything but blameless, word. Pics with the resolution of 1200x800Px are perfectly clear - and the same applies to the 1280x720 HD videos sporting a bitrate as high as 5000Kbps. Needless to say, the work of the cameraman is always blameless. He's a true artist drawing the blameless masterpieces of foot fetish and foot worship on the pages of his site.
Conclusion
Pros
Unique footfetish content.
Exclusive only content.
Excellent quality of pictures and videos.

Cons
Content amount isn't very large.
Navigation and usability needs work.

Would I recommend you to sign up to Pantyhosed Fetish? Sure I would. This brand-new site is a must-see already even though its collection of foot fetish content is not so huge yet. However, I'm sure that with time it will develop into something totally amazing - and you should better be there to observe that development. ;) Really, the unusual feet and legs models starring for this one have got both individuality and sex appeal - so their pantyhose feet tease shows are guaranteed to impress you.
Best Foot fetish Sites